Bombproof Your Roll:

Tuesday Night Rolling at NASA Pool
Instruction or Drop-in Practice
Our popular and highly successful 4-session Learn to Roll Series at the NASA pool in Mountain View starts up in February this year. Whether you are learning to roll for the first time or refining your technique for rough water, a little pool time is a great way to train.
"My roll is more solid than I ever dreamed . I've done multiple combat rolls in heavy surf and was always confident I'd roll up easily. Thanks for your priceless instruction!!!"  Mike Edwards (past president, Western Sea Kayakers
---
Why sign up for all 4 sessions?
If you are serious about learning to roll—especially a roll that actually works in real-life "combat" situations—it generally takes commitment and practice. Most paddlers, (myself included) don't develop a reliable combat roll overnight. The difference between those paddlers who "have rolled" and those who "have a roll"–one that actually works in the real world and not just in the pool–typically is a direct correlation to how much training and practice they are able to commit to.
The Proof is in the Students:
We find that those who commit to 4 sessions in a row end up with a much better chance of developing a roll that actually works when they need it. For the past 8 years we've been using the 4-session, Learn to Roll Series with excellent results. Each year some 20 to 40 students participate in our program, most of them are rolling by the end, including many who'd been trying off and on for years. About half are also rolling on both sides, and several are beginning to learn back-deck rolls, kelp rolls, deep sculling braces and other types of rolls designed to enhance blade awareness and finesse, all necessary skills for developing a reliable "combat" roll.
Price with Instruction: 65./night or 240. for 4 sessions. Preference is given to those who can sign up for all 4 classes, but we are often able to schedule others on the nights you can't make it and vice versa. Reservations required. Classes often fill well in advance.
Upcoming Dates: Feb. 11, 18, 25 & Mar. 4
Mar. 11, 18, 25 & Apr. 1 (no fooling!)
No classes in April or May (traveling); back in June
---
Drop-In Pool Practice:
Available for 10./night for those who already have a roll and just want some extra practice.
30./night includes kayak rental.
PLEASE be sure to let LLP know you are paying through Eskape (and not directly to them), as I've already paid for the pool, and I get a credit toward future pool rentals.
Please try to stay toward the deep end if classes are happening in the shallow end. Thanks.
---
Rolling in Surf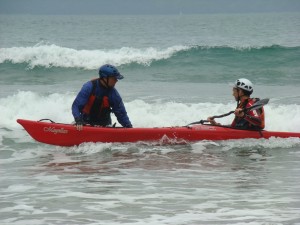 Practice your pool roll in combat with an instructor wading beside you in the soup to help you develop skills and confidence, using a series of exercises specifically designed to get you rolling in surf.
Dates: See schedule–Class held same day as Surf Skills dates. (Other dates available for 2 or more students).
Prerequisite: Fairly reliable pool-roll recommended.
Price: 75. /half day; 100. with full day surf skills class.
---
 Bracing & Rolling Clinic: Elkhorn Slough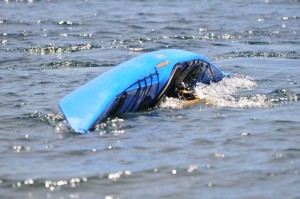 Increase your comfort and confidence in rough water. Advanced bracing techniques and the Kayak Roll both involve the same body mechanics. Since a good brace is better than the best roll, we'll work on both skills at once in this full-day clinic. This class makes a good precursor to pool rolling, and gives you something to work on if you are waiting for space to open up in a class.
Prerequisite: 2A Surf Zone skills recommended.
Price: 95.