Beginner Thru Expert Instruction–A.C.A. Certified Instructors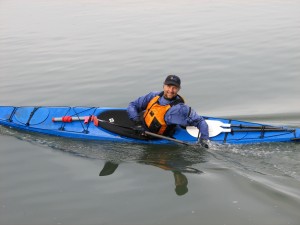 From first strokes to instructor certification, we've taught thousands how to kayak, polish their skills, and even become instructors themselves. Many former students now teach for us and at other local kayaking schools. Eskape's owner-operator, Roger Schumann, has been teaching kayaking professionally since 1990. In addition to being one of the top instructors in the nation, he is the award-winning co-author of two books on kayaking. Read more about Roger below.
We Train the Instructors
ESK is one of only three schools on the West Coast qualified to certify American Canoe Association sea kayaking instructors. Roger has trained instructors from some of the West Coast's finest paddling schools: Monterey Bay Kayaks, California Canoe and Kayaks, Eddyline, NOLS, Outward Bound, Alder Creek and others. Learn more about or ACA Instructor Certification Workshops.
What does that mean for you?
It means that you are going to get the best training available, geared toward your skill level, whether you are a first-time beginner or a fellow instructor.
---
Smaller Class Size
Our student to instructor ratio is unbeaten in the area.
Beginning classes 4:1 (8 students max. to 2 instructors)

Surf Zone and other intermediate classes 3:1 (6 students to 2 instructors).

Advanced clinics 3:1 (6 students to 2 instructors).
Single Kayaks
ESK uses sleek, efficient one-person sea touring kayaks, rather than slow "sit on tops" or heavy double kayaks.
 Great Locations
We run trips to the West Coast's premier paddling destinations because that's where we like to paddle ourselves: from Monterey Bay Marine Sanctuary to Baja to the San Juan Islands – we paddle it. (Photo Links)
---
 Who We Are – Experienced Paddling Professionals
Roger Schumann
Eskape's co-founder, owner and primary instructor, Roger is an American Canoe Association Instructor Trainer Educator in Level 5: Advanced Open Water (the ACA's highest level of certification) who has been teaching sea and river kayaking since 1990.
He is known nationally for his many articles in Sea Kayaker magazine, and he is also the award-winning co-author of two books on kayaking: Sea Kayaking Central and Northern California: Best Trips From Morro Bay To The Lost Coast (winner of a National Outdoor Book Award) and Sea Kayak Rescue.
A California native, he grew up along, and often in, the Pacific Ocean surfing, sailing, snorkeling and eventually sea kayaking. In addition to sea kayaking, he is also:
ACA Level 5: Advanced Whitewater instructor,

ACA Level 3: Surf Kayaking Instructor Trainer,

Wilderness First Responder (80 hour course)
A trained naturalist, he also teaches marine natural history field-study courses for Prescott College, and is a regular speaker at various kayaking events and symposia across the country. For the past 15 or so years he's taught classes and led kayak expeditions all over the world from Alaska to the Galapagos and from Baja to Brazil.
---
Eskape's regular instructors are a "Who's Who" of local paddling talent, including several of the Bay Area's most-experienced sea kayaking professionals: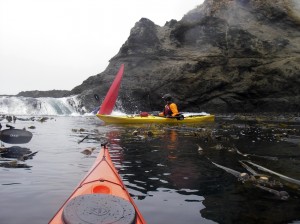 Tom Shores is among a small handful of ACA Instructor Trainers at Level 5: Advanced Open Water (able to train and certify instructors with a single bound!) in our area, as well as a Level 3: Surf Kayaking instructor. A gifted paddler and teacher, he managed and helped develop a large kayak instructional program on Tomales Bay for many years. When not teaching with Eskape, his real day job is as a rep in the outdoor recreation industry.
---
Bryan Dresbach is one of Eskape's best success stories: he began as a student some 9
years ago with Tom on Tomales Bay before continuing his training with Eskape. He eventually went through all our skills courses, including various ACA instructor certification workshops, and he is now certified at Level 5: Advanced Open Water and Level 3 Surf Kayaking.
These days he's teaching all the classes he once took as a student. Currently an Instructor Trainer Candidate, his infectious enthusiasm for the sport, sense of humor, and extreme competence as both a paddler and a teacher has made him among our more popular instructors.
---
Buck "The Champ" Johnson  has been teaching for ESK and other local companies since the early years. His experience and professionalism, coupled with his pleasant disposition and passion for paddling and teaching, have made him a perennial favorite among our students. When not teaching with Eskape, he's a paramedic for Monterey County who loves to kayak surf. In fact, he recently returned from the World Kayak Surf Championships in Spain as world champion in the Masters' International Class. Congratulations Champ!