ACA Level 1 and Level 2 Stand Up Paddleboarding
Instructor Certification Workshops
---
Level 1: Introduction to Stand Up Paddleboarding – Instructor Certification Workshop
For those teaching entry-level safety and paddling skills in calm, protected water within easy swimming distance of shore, this 2-day workshop combines both the Instructor Development Workshop (IDW) and an Instructor Certification Exam (ICE), making it possible for qualified candidates to receive ACA instructor certification upon successful completion of the ICW (more on this below). The Level 1 course focuses on: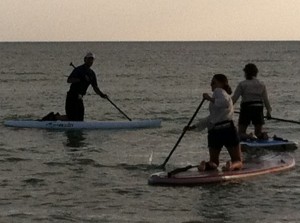 Refining basic strokes and maneuvers, and exploring more effective ways of teaching them to others
Developing a range of towing and rescue techniques, including those for incapacitated paddlers
Expanding group management strategies and safety knowledge
Prerequisites: Completion of an ACA Level 1 Skills Assessment (or equivalent paddling skills), ACA Membership and the ACA Instructor Manual (see below) are required to take the course.
(See a complete list of L1 Instructor Criteria listed on the ACA website)
---
Level 2: Essentials of SUP – Instructor Certification Workshop
This 3-day workshop includes the Level 1 curriculum above, but is also intended for instructors who will be preparing advancing paddlers to venture safely into more exposed venues, such as lakes, protected ocean environments, and other nearshore waters up to a half mile from shore. This is also appropriate training for Level 1 instructors looking to advance their personal skills.
(L2 Conditions: Wind to 10 kts., waves to 1 ft., currents 1-2 kts.)
This 3-day workshop (2 days training + 1 assessment for certification) includes a variety of more-advanced skills and teaching concepts.
Advanced maneuvering strokes, racing strokes and pivot turns
Footwork to prepare for SUP surfing, river running and racing 
Safety, group management and navigation in more exposed waters
Prerequisites: Successful completion of an L2 Skills Assessment (or possess equivalent skills and knowledge), ACA Membership and the ACA Instructor Manual (see below) are required to take the course.
See complete list of  L2 Instructor Criteria on the ACA website
---
General Information About Instructor Certification
ACA Reputation for Excellence: As the nation's oldest and largest paddlesport organization, the American Canoe Association has a long-standing tradition of granting instructor certification to paddlers of all disciplines, ranging from freestyle canoe, whitewater kayaking, and swiftwater rescue to coastal kayaking and Stand Up Paddleboarding. ACA instructors are recognized worldwide as safe, knowledgeable paddlers and effective teachers. Eskape Sea Kayaking's ACA instructor workshops are your chance to spend several days on the water (and in the classroom) with other skilled sea kayakers and instructors. Within the framework of the class there is a tremendous opportunity to exchange ideas about paddling and teaching techniques.
Paddling Skills: We'll spend time fine tuning paddling skills using both verbal feedback and video tape. You don't need to be a hotshot SUP surfer, but you should be comfortable maneuvering your SUP and performing rescues efficiently using a variety of strokes in both calm and choppy water.
Teaching Skills: We'll cover modern learning/teaching theory and technique, and you'll be asked to complete a lesson plan and give this prepared lesson, as well as several impromptu lessons of various strokes, techniques or trip planning strategies. There will be ample opportunity to practice teaching on each other and to experiment with a variety of teaching styles.
What About Certification? The Instructor Certification Workshop (ICW) is is composed of two parts–an Instructor Development Workshop and an Instructor Certification Exam–which are often offered together in the same course at Levels 1 and 2, and typically separated into two separate courses at Levels 3 and above.
The Instructor Development Workshop (IDW) is the first half of the process. The IDW is designed to improve your paddling and teaching skills and to introduce you to the ACA format which is a comprehensive overview of contemporary sea kayaking technique. At the end of the IDW, you'll receive a thorough evaluation of your progress toward certification.
 The Instructor Certification Exam (ICE) as the name suggests is the assessment portion of the certification process. By working with, and receiveing feedback from, both peers and practice students, you will be given the opportunity to demonstrate your ability to meet certification requirements. Please note: Participation alone does not guarantee certification.
Certification Outcomes: Upon completion of the ICW, there are various possible outcomes 
Pass – an Instructor Candidate can become certified at the highest level of the ICE or ICW
Pass – an Instructor Candidate may become certified at a lower level (aka receiving a Level 1 certification even though it was a Level 2 certification course)
Continued – most, but not all of the requirements are met to certifiy at a specific level.  They do not have to retake the entire ICE or ICW, but they must be 'checked off' by an Instructor Trainer at a later date before certification is awarded. Note that a candidate could pass at Level 1 and be continued at L2
Failed – the Instructor Candidate did not pass at a desired level and the deficiencies were such that they may need to retake either the ICE or both the IDW and the ICE.
For more information, see How to Become an ACA Instructor on the ACA website.
ACA Membership Requirement: For insurance reasons, ACA Membership is required to take the IDW. The $40 annual membership goes to a good cause: in addition to its safety and instructional programs, the ACA lobbies for waterway conservation and to protect paddlers' access rights, and a subscription to a paddling magazine is included.
To receive certification upon successful completion of an ICE or ICW, the new Instructor must also pay their SEIC dues ($25) and show proof of appropriate First Aid and CPR certification.
Payment Info: Since it makes setting up course logistics exponentially easier when participants confirm their space in the course well in advance, our early-payment price of $225 is $25 off the usual fee, but we must receive your payment one month prior to the start of the class. Again, this price does not include ACA membership or Instructor Manual. Reminder: since space is limited, payment is considered non-refundable within three weeks, and partial credit may be given only if we can fill your spot off the waiting list.
Logistics: Schedules, presentation topics, etc. will be sent with registration.
Questions???—Feel free to email or call Roger: info@EskapeKayaking.com, 831.566.5385.